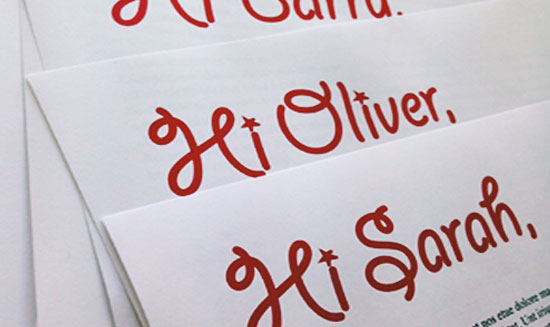 Imagine printing an individual invitation to each and every one of your customers. Tailored printing, customized to reach that one person on a personal level. This technology, known as VDP, is here now, and it is easier, and less complicated than you might think.
These days we're all familiar with web pages and emails that marketers direct specifically to us. Sign on to one of your usual websites and you are greeted with a 'Hello' addressed to you specifically, or a 'Special Deals' section just for you. These are part of the magic of the web, right? You can't do anything like this in traditional print media, right?
Wrong.
With VDP, Variable Data Printing, your printed materials can be customized for the individual customer you're trying to reach.
Variable What?
At its most basic level, VDP is a way to set up a print job so that a certain section of is customized for each impression. One of the more common uses is often to introduce a customer's name and information. Imagine a post card mailer for a car shop that shows a picture of a car and then says at the top 'Hello' followed by the customer's name. And then it says something like 'Our records show your 2014 Honda CRV is ready for service.'
With VDP, our car shop owner could order 200 postcards to be printed, and have each and every one of them customized to the name and type of car of the individual customer. So that card number one might Say 'Hi Sue. Our records show your 2014 Honda CRV is ready for service.' and card 500 would say ' Hi Anthony. Our records show your 2012 Chevy Equinox is ready for service.' And each card in between would have a different name and a different car.
All of this printing at the same time on the same machine.
Interesting, but it sounds complicated.
We admit the name Variable Data Printing sounds a bit techy and intimidating. It's a new technology that takes advantage of the flexibility and power of digital printing. With a great team of prepress and print specialists VDP can simple and straightforward.
Often all our customers need to do is provide a spreadsheet with the information they need to print, develop a design with our designers, and then let our prepress team work their VDP magic.
Of course it can get more intricate if you want. Take our hypothetical car shop. They could use VDP to add even more customization. For example, they could use VDP to show a picture of the customer's car. So not only does the text say 2014 Honda CRV, but there is a picture of the car as well. With the right data to begin with, it could even show the customer's actual car.
Any VDP project begins by deciding what you would want to personalize for your customers. Do you want to include a name, or certain text? Or do you want to include specific text and images – imagine for example certain sales information tailored to specific demographic.
Next, as we always say, start talking with your print team early to plan your project for success. If VDP sounds like a good fit for you and your business, then feel free to give us a call or stop by today.
cutpasteandprint Printing, graphic design, binding, and promotional product specialists in Huntingdon Valley, PA. We proudly serve the Bucks and Montgomery County areas with superior quality, great customer service, and a commitment to getting you and your the best possible printed materials. Our services include: Digital Printing, Offset Printing, Graphic Design, Promotional Items, Bindery, and Copying.
estimating@cutpasteandprint.com
•
215.364.3898