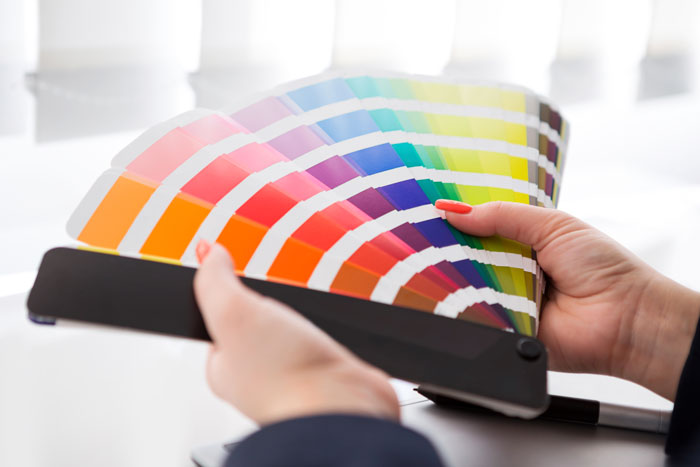 A recurring problem that we see with many files in our pre-press department is the mixing of colors. This isn't the fun kind of mixing like yellow and blue make green. Instead, we mean the mixing of ink types – particularly the mixing of coated and uncoated inks in a design.
Okay, lets take a step back from the problems and look at a few basics.
Today we are looking at choosing inks for spot color jobs. You can read more about what a spot color is here. Basically, spot colors are pre-mixed inks you use when graphics like logos with specific color needs, or when designing with a limited color variety as you might with stationery.
Printing with spot colors is one of our specialties at cutpasteandprint. And even though they are used in designs with limited color palettes, they are available in a huge variety. If you print with a metallic ink, a fluorescent ink, or in a specially mixed ink designated for a particular brand (think McDonald's red or Starbucks green) then those are all examples of spot colors.
What happened to coated and uncoated inks?
When you work with spot colors one of the most common difference you will encounter is coated and uncoated inks. If you work with Pantone inks, you know that every color has a number. A color like 274 is a nice flowery violet. You should also know that Pantone  has coated and uncoated versions of their color books. When you work with design software like Adobe InDesign or Illustrator you choose between these two books.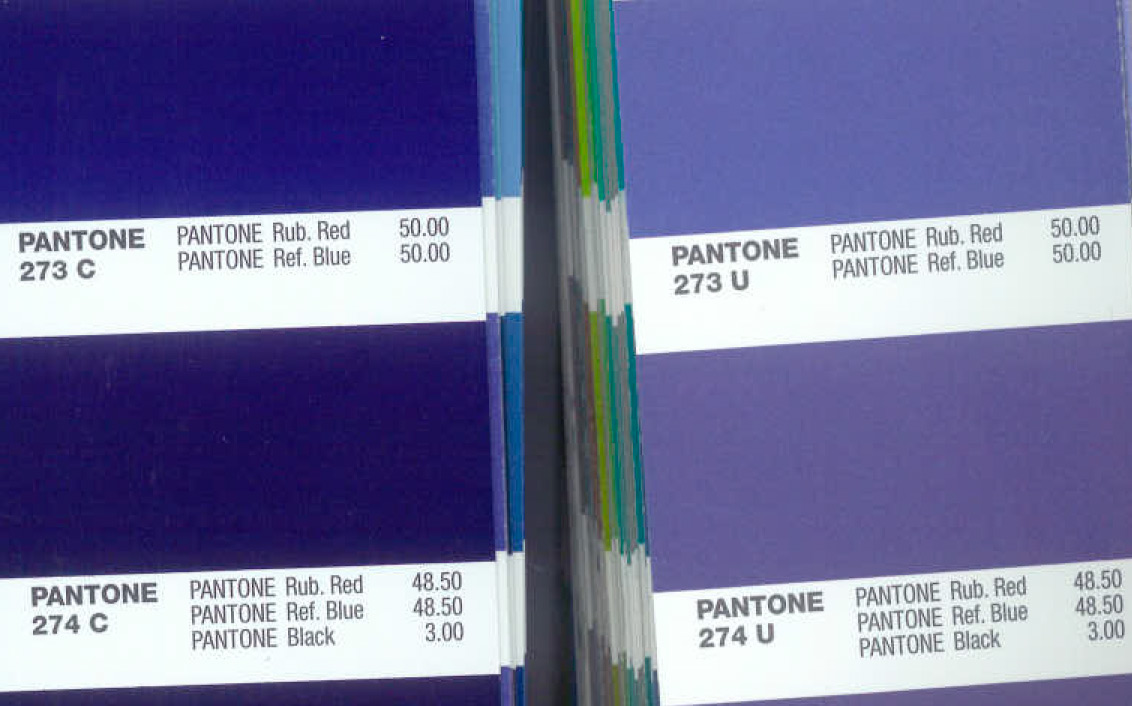 Just as each color has a number, it also has a letter code attached – either a C or U. These of course signify that a color is either (C)oated or (U)ncoated. And the issue becomes clear when you look at the two side by side. That violet 274 looks significantly different whether or not it is 274C or 274U.
There are some technical reasons why these inks look different. But the simple explanation is that it is all about the paper it is printed on. The inks are not always opaque, and the more paper they allow to show through, the more of an effect the paper will have. A more opaque printing ink will not look that different between coated and uncoated versions. But for colors with high levels of transparency, the difference can be significant.
So, there are different ink types? What's the problem?
The issues we see time and again all have to do with intent. If a designer chooses one color to represent a particular brand, they have to take some time to investigate how the color will look across different papers. If she or he chooses a color based on how the coated ink looks on a coated paper, than they need to know how it will look when another project comes up on uncoated paper.
There are times the colors can appear so different that choosing an entirely different uncoated ink will match the original coated ink more closely.
Of course inks will always look different on different papers. We've had instances of a designer choosing an uncoated ink because it had the look he wanted, but then the printing was on a coated stock and the color didn't didn't look right.
The bottom line.
All of this means that as designers you need to be aware of the different options that come into play in a design. You need to know the paper you are using and how the ink types you choose will appear on them.
The best way to do this is to work with your print team early and often. Asking questions and viewing samples and proofs to ensure you get exactly what you want.
cutpasteandprint Printing, graphic design, binding, and promotional product specialists in Huntingdon Valley, PA. We proudly serve the Bucks and Montgomery County areas with superior quality, great customer service, and a commitment to getting you and your the best possible printed materials. Our services include: Digital Printing, Offset Printing, Graphic Design, Promotional Items, Bindery, and Copying.
estimating@cutpasteandprint.com
•
215.364.3898