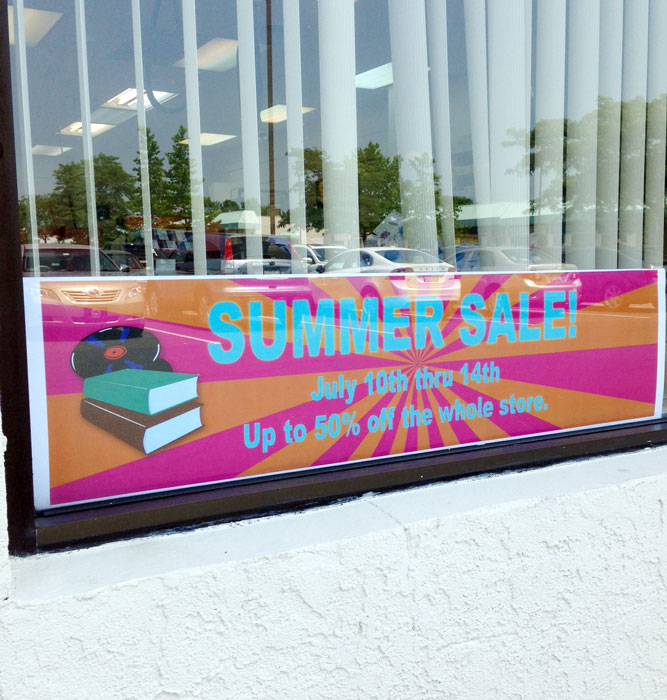 Bare windows? Blase signage? Is it time for your small business to up its window display game? Why not consider printing full color paper banners from cutpasteandprint to add some color and pizazz to your business.
Over the next several months, we will be spending some time on this blog exploring products and services that cutpasteandprint now offers our customers that you may not be aware of . One of these new items are full color banners that can be used in windows or throughout the inside of your business to help advertise your services, or direct your customers to where they want to go.
These banners can be printed vertically or horizontally to sizes up to 11.5 by 47 inches, and can be in full color or black and white – whatever suits your needs. These simple, easy to use banners are a great way to take advantage of the window space you have at your business. Grab your customer's attention with signs that quickly and effectively get your message out.
You can use these banners to help promote a sale. You can increase brand awareness. Or you could simply create curiosity and interest in your business and services. Better yet, they are inexpensive enough that you can change them out seasonally. Create a new design for each special event or sale you might have.
To match the unique size of these banners you can take advantage of our graphic design and prepress team. They will take your ideas and vision, and transform it into a complete and print-ready design. You are of course welcome to send us your own design, and we will print it right away.
Then our print production team will get your banners looking great and in your hands ASAP.
If you have questions for us, feel free to comment below, email us, or call at 215.364.3898. Also ask about our other printed products for small businesses, and we can outfit your business in total.
cutpasteandprint Printing, graphic design, binding, and promotional product specialists in Huntingdon Valley, PA. We proudly serve the Bucks and Montgomery County areas with superior quality, great customer service, and a commitment to getting you and your the best possible printed materials. Our services include: Digital Printing, Offset Printing, Graphic Design, Promotional Items, Bindery, and Copying.
estimating@cutpasteandprint.com
•
215.364.3898