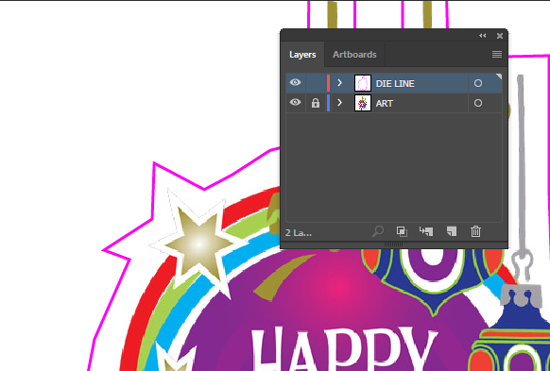 Die cutting can be a fantastic way to help your print design stand out. But how do you prepare your work to be die cut? Today we lay out the basics.
Custom die cutting is one of the most unique ways to finish a print project. From simple shapes to complex and intricate cut outs, die cutting gives designers an extra way to add to a design. If you've never had your work die cut before it may seem like a daunting process. But in truth it can be as simple as a another level of artwork in your print design file.
What is die cutting?
Die cutting is the process of making a thin metal shape that will act like a cookie cutter for your paper designs. The metal is embedded into a block of wood and then used on a press to cut paper to a desired shape. Dies can be made into all kinds of shapes. Dies can be very simple something as simple as in a hole for a door hangar. They can also be complex like the shape of a paper doll or collectible.
As a designer, all you have to think about is your message. What kind of die would work for your design? Something classic like the top of a scroll or rounded edges? Or something unique like an animal or machine shape?
How do I get a die made?
The process of getting a die made begins by consulting with your printer. They will either have staff in house that create dies or connections with finishing companies that will create one. Do lots of sketching and settle on the shape you want. Then work on sizing it. You'll want to be certain you know exactly how big you need your die to be.
Obviously, the more complex the job you are working on the more details you will need to figure out. If you need a slit in a folder it might be as simple as saying, "We need a 3 inch slit, right here." If its something like the shape of a figure or specific object you will need to work out more details with your printer.
Once you settle on a design, your printer or you yourself can make up a graphic file that will be used to build the die.
I can design the die myself?
Yes, you absolutely can! If you work in a major design program like InDesign, it is as simple as adding another layer of artwork. You could add the layer to your existing design. Label it something like "Die-Lines" and then add an outline of the form you want to create. We usually suggest making the line magenta or some other color that will really stand out on a blank sheet.
It is usually a good idea to include the die line layer with all the final art you submit to the printer. It is also good to include  a separate file with just the die line artwork. Anything to help add clarity for everyone involved.
Take a look at the simple example above. The holiday party announcement will be printed, and then have a circular die cut around to match the shape of the ornament. The layers are set up in InDesign as one art layer, and a die line layer.
A few final tips:
Just as any good design has a little bit of space between the design and the edges of the paper or trim lines, you also need to keep some space between your design and the die lines. You don't want any of your text to get chopped off by a die!
As always the most important thing to do for any print design is to talk with your printer early and often. That's especially true when you add something like a die cut to a project.
cutpasteandprint Printing, graphic design, binding, and promotional product specialists in Huntingdon Valley, PA. We proudly serve the Bucks and Montgomery County areas with superior quality, great customer service, and a commitment to getting you and your the best possible printed materials. Our services include: Digital Printing, Offset Printing, Graphic Design, Promotional Items, Bindery, and Copying.
estimating@cutpasteandprint.com
•
215.364.3898