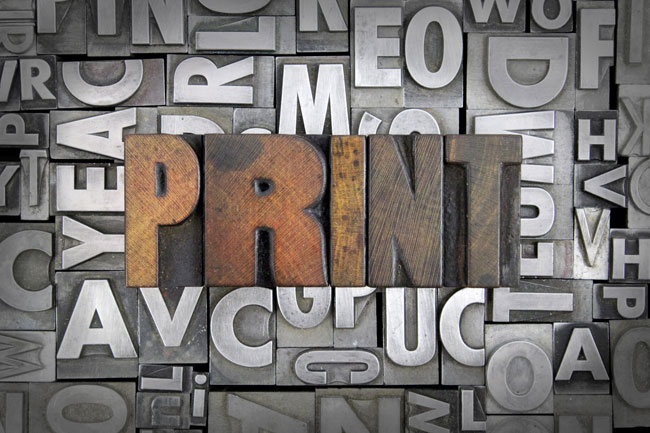 Happy New Year, Welcome to 2018! Now let's print some great design!
The new year is upon us, and with it all the possibilities of a fresh beginning. It is of course  a time to re-focus ourselves and craft New Year's resolutions. Lose some weight, learn a language, run a marathon. All great ideas, but we've turned our focus to the world of print and come up with these 5 resolutions for print design that we'd like you to keep for the coming year.
I will remember the bleed.
You will remember to add bleed to all of your designs. You will make sure you have added enough to make trimming errors all but impossible. You will keep a safe space of at least 1/8″ between your design and the trim line.
You will, when necessary, print out a dummy and check that the bleed and trim lines all line up exactly as you want them to.
I will not use crazy illegible fonts or shrink them down so they're all but invisible
Everybody loves seeking out new fonts, trying them out, and mixing them into a design. But this year, you will be careful and considerate with all of your font choices. You'll focus on simplicity and clarity.
And most of all you will mind the sizes of the fonts you choose, and always consider the line weight.
I will remember kerning and leading.
Just as with font choice and size, this year you will remind yourself to review both the kerning and leading of your work. Make sure that no letters are smooshed together, and be sure the space between lines is set just right. You will make these a part of your design review process. Speaking of which…
I will check my proofs – several times!
This year, you will review your proofs several times. You will double-check the spelling of names. You will make sure that numbers are correct, and email addresses are complete. You will read areas of text aloud. You will check the sizes of your design elements. You will also ask someone else to check it.
You will take your time and be careful before giving approval to print.
I will talk to my Printer early and often.
I will talk with my printer about my design. I will talk with them at the beginning of my process. I will show them my plan. I will bring a dummy to them and ask them if they see any potential problems. I will consult with them about paper choices and alternatives. I will make sure that I work with them to be ready for production and finishing.
This year, as with every year, we ask that you make this the most important of our resolutions for print.
I will bring my printer the most creative, crazy, and wonderful designs I can create and challenge them to produce it to my standards!
We certainly look forward to it. Have a great 2018.
cutpasteandprint Printing, graphic design, binding, and promotional product specialists in Huntingdon Valley, PA. We proudly serve the Bucks and Montgomery County areas with superior quality, great customer service, and a commitment to getting you and your the best possible printed materials. Our services include: Digital Printing, Offset Printing, Graphic Design, Promotional Items, Bindery, and Copying.
estimating@cutpasteandprint.com
•
215.364.3898